It was bound to happen someday.
You fuckers finally found me.
I hit the bar with the hetero-girlfriend.
You know, sling back a few beers at Mis B Havens, go home early and go to bed.
Which was horribly derailed with one statement. "You look exactly like this one chick from this blog I read".
Shit.
"Clarissa, right?"
Shit.
"Say My Name, Bitch?"
Shit.
So I let him buy me a few beers, figure it was a fluke thing, and let it go.
I had no idea how wrong I was.
I went to go take a leak, and in the bathroom.
There's a girl sitting there.
"You look SO familiar."
Shit.
"Do you write?"
Shit.
"What's your name?"
Shit.
"Clarissa?! OH MY GOD ITS YOU. I read your stuff all the time, all my friends love you. You're like, a celebrity".
Shit.
Wash, rinse and repeat.
Twelve or so different people recognized me last night.
Out of nowhere.
So here.
Me signing my first autograph ever in my life. On a boob.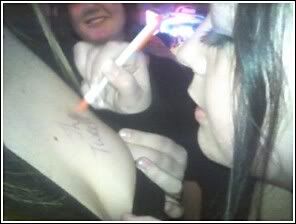 Someone sang a song to me about sex and shampoo bottles in interesting places.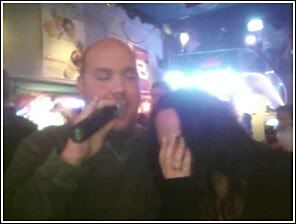 I didn't have to buy a single drink.
A nod to the big irish bouncer who takes good care of me, even if he does make fun of how my tits get in the way of things.
I didn't even think anyone actually read this thing.
Shows what I know.
It was a strange colliding of my worlds.
To the 15 different people who bought me drinks last night, thankyou.
It was fun.
However, next time we need to alternate between beer and water, because I was definately totally in the bag.
If I didn't know better, I'd think some of my loyal readers were trying to get me drunk and take advantage of me.
I feel like Tucker Max...
But without the talent and good looks.