I'm going to warn you all now that the picture that comes along with this post is gross, and not for the faint of heart. Actually it's attached to (whats left) of my body and it kind of makes me want to chuck, so don't say I didn't warn you.
Ive been absent the last, ever, because I'm dying. And don't give me that shit about how we are all dying every day blah blah blah, because right now I am almost positive that I am dying at a faster rate than you are. Ive even been to the doctor who decided that he didn't know what was wrong, and in turn
referred
me to Doctor Kevorkian who decided that a punch biopsy in my side is the best way to figure out why
Im
dying.
Simple in house procedure, my ass.
That procedure has rendered me with a Zombie Hip.
This is the ultimate re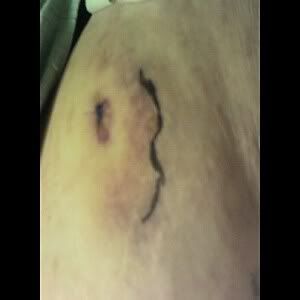 sult
of that simple procedure. This is my zombie hip.
The black line is where the bruise was marked to see if it..ahem...spread.
In case your wondering, that hurts
alot
. That's where I've been.
Now
theres
a big problem. I have this gross ass zombie hip and Ive only thought of 2 things to do with it.
1. Go up to all the people I have had sex with and show them. Explain that its a rare STD I picked up,
conveniently
right before I had sex with them. Then tell them that they ought to get tested.
2. Wear something revealing to the bar. Tell an outlandish story about my run in with a zombie. When they
inevitably
call bullshit, show them my side and then chase them out of the bar.
Its a sad day when I can only find 2 ways to fuck with people.